THE GREAT PENINSULA: series resources for The Three Lands ¶ By Dusk Peterson
Updated August 2012.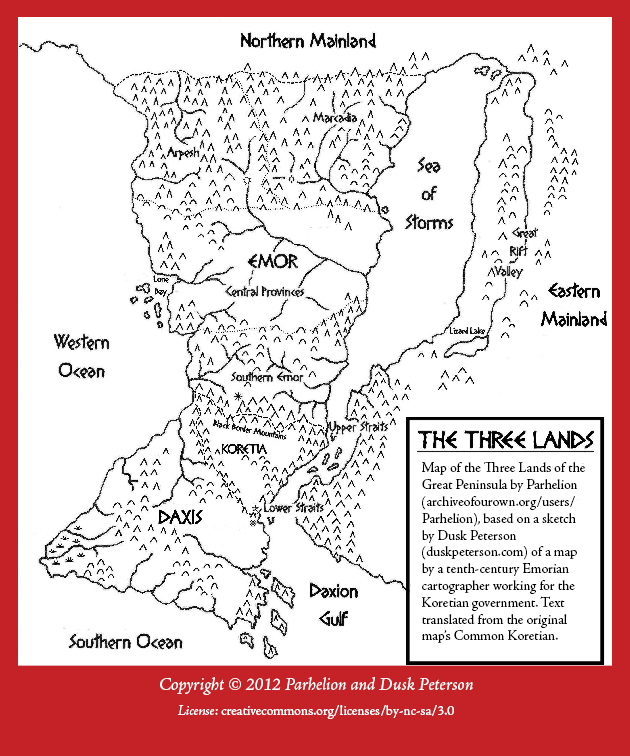 Much larger version of the Three Lands map (1.67 MB).
---
Introduction to The Three Lands. Three paragraphs summarizing the series.
Chronology of the Three Lands of the Great Peninsula. A timeline, updated whenever a new Three Lands novel or story is published. Includes spoilers for all published Three Lands novels and stories.
Pronunciation Guide to Proper Names. Includes an MP3 file.
Peter's Family Tree. An Emorian royal genealogy for the period of the Late Charas. Includes minor spoilers for Law Links and Blood Vow.
The Three Lands. The stories of the series.
---
[ HOME ] [ The Three Lands ] [ E-mail ]
This text, or a variation on it, was originally published at duskpeterson.com as part of the series The Three Lands. Copyright © 2011-12 Dusk Peterson. Some rights reserved. The text is licensed under a Creative Commons Attribution Noncommercial License (creativecommons.org/licenses/by-nc/3.0). You may freely print, post, e-mail, share, or otherwise distribute the text for noncommercial purposes, provided that you include this paragraph. The author's policies on derivative works and fan works are available online (duskpeterson.com/copyright.htm).